It happened. Burden of Dreams (9A/V17) finally sees a repeat by Scottish climber Will Bosi.
After Spending 10 days on the replica in the Lattice Training Center, and 3 weeks projecting in Lappnor Finland, Will Bosi sent Burden of Dreams on April 12, 2023.
If we have to believe his Instagram posts, Bosi spends a total of 13 sessions on Burden (or 23 sessions if you count the replica) before sending the boulder problem.
Is Burden of Dreams 9A?
During an interview with Mountainproject, Will Bosi replied that Burden of Dream is definitely the hardest boulder he has done (and he's sent Alphane 9A/V17). Furthermore, he mentions it's either solid 9A or soft 9A but not 9A+.
About Burden of Dreams
Burden of Dreams was first established by Nalle Hukaitaval in 2016 and was the first boulder problem to receive the coveted 9A/V17 grade. Until April 12, 2023, the boulder problem had not seen a repeat.
Though, plenty of boulderers have tried to send the boulder which is known for its difficult weather. Earlier this year, Shawn Raboutou spent a couple of sessions projecting the boulder when the weather was so bad he had to tarp the top of the boulder to prevent it from getting snowed over.
Burden of Dreams is located in Lappnor, Finland.
Will Bosi's Attempts on Burden
The bouldering community has been following Will Bosi closely, ever since he started projecting the replica in the Lattice Training Center. We were all very hyped when he started live-streaming the boulder problem in March after flying to Finland.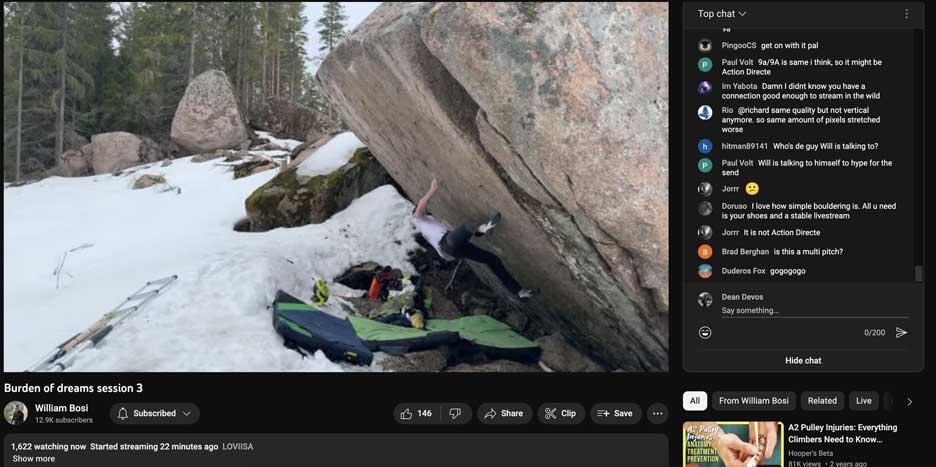 More repeats of Burden this year?
Could we see more repeats of Burden of Dreams? Both Shawn Raboutou and Stefano Ghisolfi were present at Burden of Dreams in the last couple of days.
Will got there first and got his sent in about 3+ weeks, but who's to say there can't be more ascents this year?
It looks like Stefano has left for now, but I don't know about Shawn Raboutou. After all, he seemed pretty close in his own video earlier this year. Who knows, we might be seeing a third ascent this year.