Going to an indoor climbing or bouldering gym for the first time? You might wonder what you need to wear to get the most out of your experience.
In this article, we'll cover everything you need to know about appropriate clothes for a climbing (or bouldering) gym as well as other gear you need for your climbing session.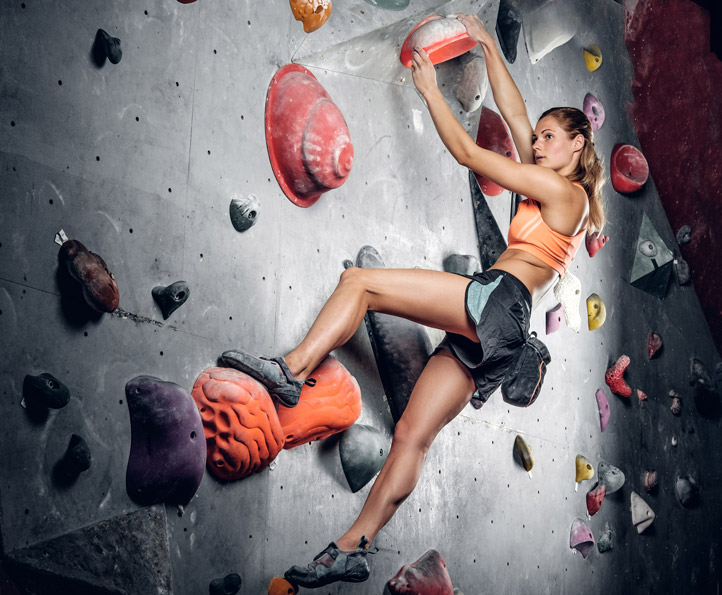 📚 This article is part of our extensive Bouldering Guide
Indoor Climbing & bouldering Clothes for Men
I'll be honest, men really don't seem to care what they wear while rock climbing. I've seen men climb in just about anything. From restrictive chinos to skinny jeans. In my experience, the harder they climb, the more restrictive their clothing is.
As long as they can take off their shirts because that's just extra weight right?
When climbing, you'll be fine in any type of t-shirt or tank top. An athletic shirt is preferred but not necessary. For the bottoms, you'll want to go for a pair of athletic shorts or loose sweatpants. As long as it doesn't restrict your movement and doesn't add too much extra weight, you'll be good.
Men's indoor climbing & bouldering tops
If you came here because you want to wear climbing-specific clothes, here are some men's tops you can shop for.
Patagonia Capilene® Cool Daily
The Capilene Cool Daily is my favorite climbing shirt. It's breathable, keeps me cool and I love the many different designs it comes in. This shirt also doesn't smell so you can wear it to multiple sessions (though not recommended of course).
Just like any Patagonia gear, this shirt is on the pricey side because it's made from recycled polyester and Patagonia uses Fair Trade factories.
E9 James
If you prefer to climb in tank tops, the E9 James might be something for you. This tank top is made from breathable cotton and manufactured in Italy.
It features a nice climbing-oriented illustration. The tank comes in a wide array of colors but sadly only has one design.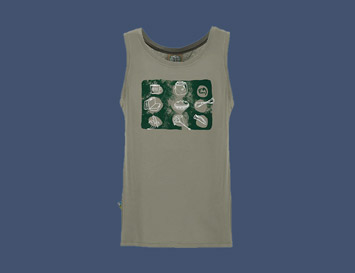 Black Diamond Genesis Tech Tee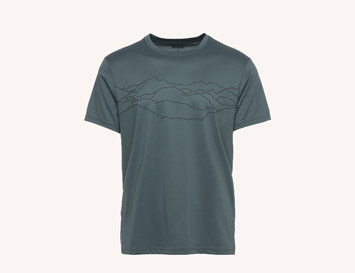 Alternatively to Patagonia, Black Diamond also has a nice line of t-shirts that are designed for climbing.
One example is the Genesis Tech Tee which is made from recycled polyester in combination with a graphene yarn blend to help regulate body heat.
This shirt has flatlock stitching which adds to your comfort and makes chafing impossible.
Men's Indoor climbing & bouldering pants
Patagonia Terrebonne Joggers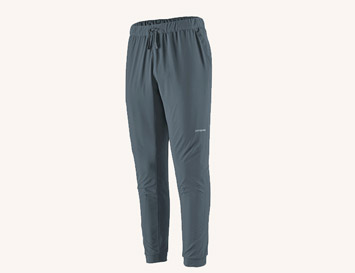 Patagonia's Terrebonne joggers are a gamechanger for any indoor climbing and bouldering. If climbing in shorts isn't your thing, these are the way to go.
These are lightweight, breathable, and quick drying. Designed for performance, these are ideal for indoor and outdoor climbing and bouldering as well as hiking and other outdoor activities.
Just like other Patagonia gear they are made in Fair Trade factories. The joggers are made from recycled polyester and spandex.
Patagonia Terrebonne Shorts
If you are more of a shorts person like myself, you might want to consider Patagonia's Terrebonne shorts instead. These are designed with the same materials as the joggers but the shorts allow for more freedom. (Or at least that's how I feel)
These are my personal go-to.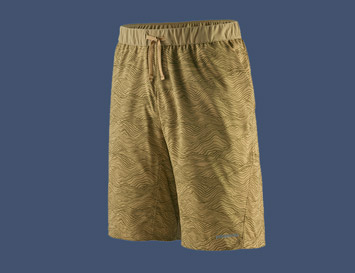 Black Diamond Notion Pants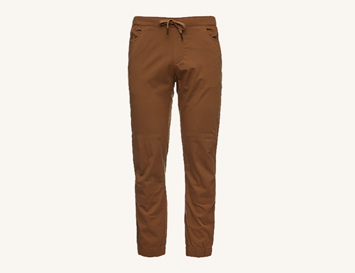 Black Diamond's notion pants are ideal for gym bouldering. These not only look amazing (and don't really look like gym climbing gear) but they are also breathable and especially comfortable.
These are designed for climbers with reinforced knees that help you out during chimneys and kneebars as well as a soft elastic waistband that layers well with a harness.
They are made from stretch cotton twill and spandex.
Bonus: Should you climb in Pants or shorts?
Whether you go for shorts or pants is up to you. Personally, I prefer to boulder in shorts over pants. I feel restricted while wearing pants (even loose ones) and free while wearing shorts. I just climb better in shorts. However, shorts will expose you to the walls of the climbing gym which can lead to cuts and scrapes on your legs and knees.
Indoor Climbing & bouldering Clothes for Women
Most women at climbing gyms wear the same thing they wear to exercise gyms: leggings or yoga pants in combination with a sports tank top, a sports bra, or a loose shirt.
On a hot day, you might want to go for biker shorts or other types of shorts.
You should be fine with your current closet but if you want climbing-specific wear, here are some options for you.
Women's climbing & bouldering tops
Patagonia Capilene® Cool Daily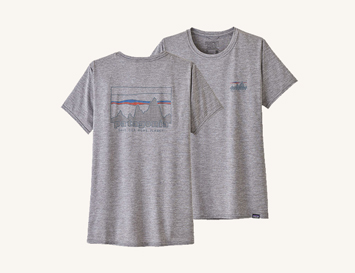 The Capilene Cool Daily is not just great for men, Patagonia has these in women's as well with different colors and illustrations.
If you are looking for a climbing t-shirt, you cannot go wrong with a Capilene Cool Daily. These are breathable, odorless, and keep you cool while climbing or bouldering indoors.
This shirt is made from recycled polyester in Fair Trade Factories.
Prana Everyday Sports Bra
The Prana Everyday (or any Prana Sports Bra) is a great addition to your indoor climbing wardrobe. You can wear it by itself or underneath a cute cropped top or tank.
Prana sports bras are designed with outdoor activities such as climbing in mind so you know you're getting both performance and comfort.
These are made from Supplex Nylon and Lycra® Elastane. Just like Patagonia, Prana uses Fair Trade factories.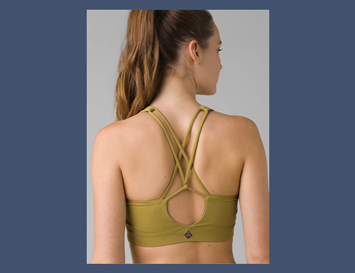 Patagonia Cool Trail Tank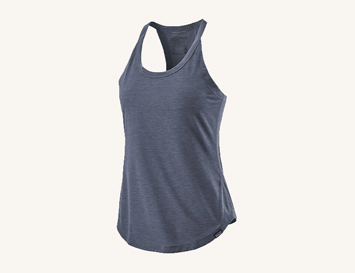 If tank tops are more your vibe, Patagonia's Cool Trail Tank will keep you cool during your bouldering or sports climbing session.
This tank top is part of Patagonia's tech line which means it's made for performance. This top is breathable, keeps you cool, and has quick drying.
The Cool Trail Tank is made from recycled polyester in Fair Trade factories.
Women's climbing & bouldering bottoms
Patagonia Maipo Rock Crops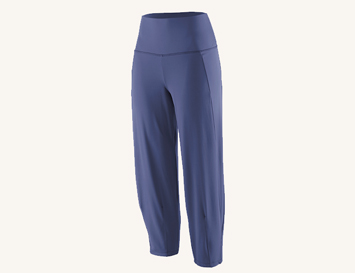 These are made specifically with bouldering in mind. They have a high-wasted fit like you would expect from yoga pants but are loose through the legs and tapered towards the bottom. This gives you more freedom of movement but still helps you excel during tricky foot placements in the bouldering gym.
Made from recycled nylon and spandex in Fair Trade factories.
Prana Transform Capri
If yoga pants or leggings are more your style, you might want to check out Prana's yoga pants. One great example is the Transform Capri.
These come with a high waistband, has flatlock stitching (eliminates chafing), and compression fabric that hugs your body and helps you perform in your climbs.
Transform Capris are made from Supplex Nylon and Lycra® in Fair Trade factories.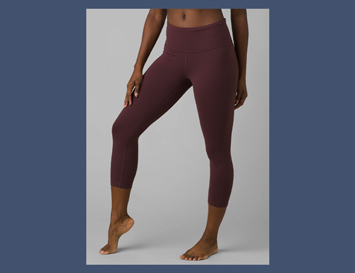 Black Diamond Notion Shorts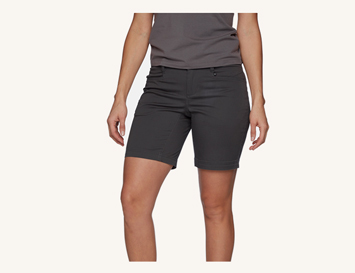 If you're looking for climbing shorts that perform well indoors and outdoor, I raise you the Black Diamond Notion Shorts.
These look like shorts that you could wear on any summer day but they are actually made for performance. They are comfortable, harness-friendly, and designed for mobility.
On top of that, they have 4 pockets (2 in front, 2 in rear) which are still accessible while in a climbing harness.
Made from Stretch organic cotton twill and elastane.
What to not wear to Indoor Climbing Gym
You should avoid wearing the following while climbing or bouldering:
Don't wear Jewelry
Rings, bracelets, watches, and any type of jewelry that might get caught on handholds should be taken off during a climbing session. When climbing, these expensive items can get damaged but they can also seriously injure you when they get caught between holds.
TIP: You can wear your wedding ring around your neck while climbing. This is what Adam Ondra does and is way less dangerous than having your wedding ring around your fingers.
Don't wear tight Jeans or Chinos
Tight, skinny jeans or chinos should be avoided while climbing or bouldering. These will restrict your movement and make it impossible to send boulder problems with far apart footholds. Jeans that are made from stretchy material (fake jeans) can still be used but aren't recommended especially in hot weather.
Non-breathable clothing
Tops that don't breathe well should be avoided when climbing, especially if you are easily prone to sweating. These will make you sweat faster, give you armpit stains and make you smell.
What Shoes to Wear for Climbing
While it is possible to climb in your sneakers, most climbing gyms won't allow you to do so because it spreads germs from your shoes all over the handholds. So if you don't own a pair of climbing shoes, you will need to rent some.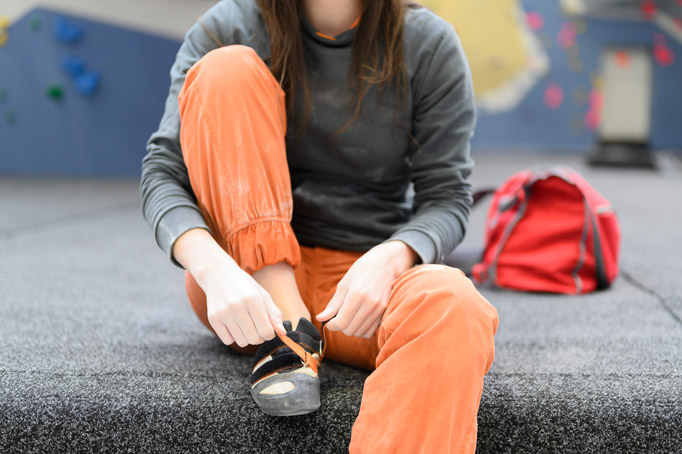 Every climbing and bouldering gym has climbing shoes for rent, so you don't have to worry about that. When asked for your size, you should use your street shoe size as you are going to wear socks in them.
Pro-tip: bring an extra pair of socks if you are renting
Since you will be wearing socks inside your climbing shoes, you should pack an extra pair of socks for going home. Socks get extremely sweaty and smelly inside climbing shoes (especially rental shoes) so you definitely don't want to go home like that. Besides, rental shoes are nasty.
Be smart, pack an extra pair of socks!
If you plan on taking bouldering seriously, you might want to consider getting a pair of climbing shoes yourself.
Here are some of our beginner climbing shoe recommendations for climbers.
Best for all-around: La Sportiva Tarantula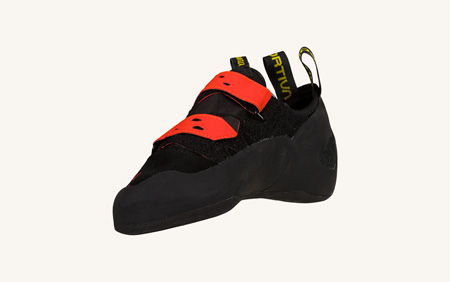 The La Sportiva Tarantula is a cheap climbing shoe that performs really well in all styles of climbing. Whether you are sport climbing or bouldering. It has a stiff outsole, making it very good at edging on small footholds.
If you plan on doing more than just bouldering, the tarantula is likely the best decision you can make for a beginner climbing shoe.
Another great selling point is its price. This shoe is very affordable and often found on sale.
Best for Bouldering: Scarpa Veloce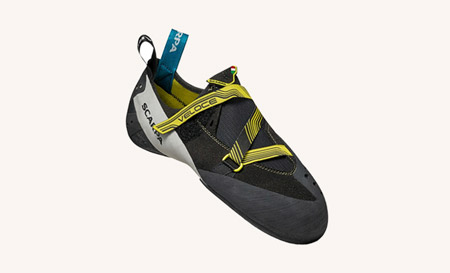 The Scarpa Veloce is a beginner climbing shoe (the first of its kind) that is designed for indoor bouldering.
This shoe is very soft and thus performs extremely well at smearing on large volumes which are found in so many modern bouldering problems.
This shoe isn't going to be as good at edging as the LS Tarantula but it will force you to improve your footwork right off the bat.
The only real downside is its price point. For beginner bouldering shoe, this shoe is expensive.
What to Bring to Indoor Climbing
Aside from your clothes, you are going to need other items as well to get the most out of your climbing session. Here's what your bag should look like when visiting an indoor gym.
What to bring to a Bouldering Gym: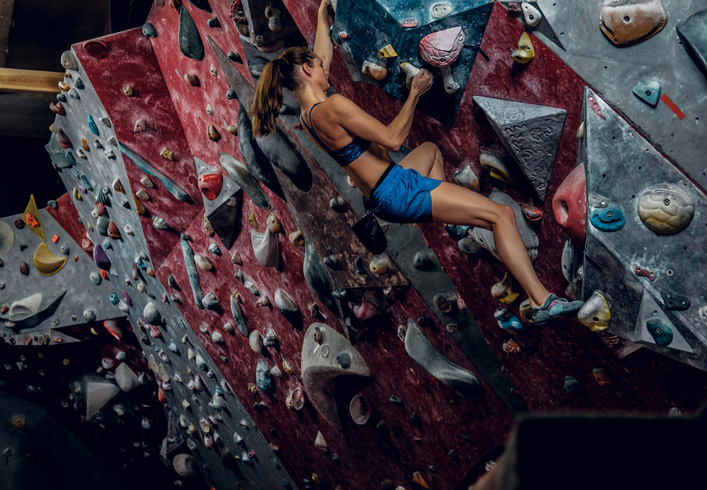 Climbing shoes – can be rented at your bouldering gym
Chalk bucket or liquid chalk
Climbing brush (optional) – helps you remove excess chalk from the holds.
What to bring to a Climbing Gym: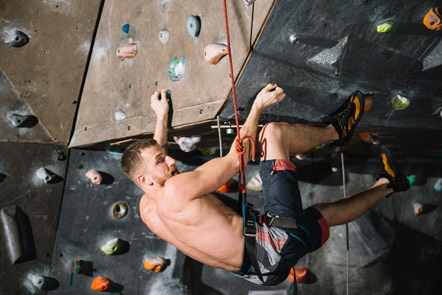 Climbing shoes – can be rented.
Chalk bag – Bring a carabiner to attach to your harness.
Harness – can be rented.
Belay device – can be rented.
What else to bring inside your climbing bag
A water bottle

(MUST BRING) – it's super important to keep hydrated while climbing. Even if the climbing gym has a bar, they will allow you to bring your own water bottle. I've never known a gym to not allow water bottles.

Climbing tape & bandages – your skin will tear while you are climbing or bouldering. This is unavoidable, so you should bring bandages and climbing tape to patch yourself up.
A snack – you might get hungry during your climbing or bouldering session. A light snack (e.g. a banana) can give you the energy to extend your session and get the most out of it.
Some slippers – easy-on slippers are helpful for when you need to go to the bathroom during your climbing session. Climbing shoes are not allowed in the bathroom. This is a basic rule that counts across all climbing gyms, don't do this! Additionally, you can also wear them to the showers if you plan on showering at the gym.
Change of clothes – if you aren't going home right after your climbing session, bring a change of clothes
A sweater or jacket – to keep you warm after your climbing session
A towel – don't forget to bring a towel if you plan on showering after the gym
What to Wear to the Climbing Gym – In Summary
That's everything you need to know about what to wear and bring to a climbing gym. Basically, you can wear whatever you want to a climbing gym as long as your clothing is breathable and doesn't restrict your movement.
For the most comfort, wear the same thing you would wear to an exercise gym: tech shirt, tank top, sports bra, athletic shorts, joggers, or leggings.
Remember to take off your jewelry and watches while climbing.
---
More articles like this