Having a basic knowledge of the anatomy of climbing shoes is essential in picking the right climbing shoe for your feet.
So if you've ever wondered what climbing shoes are made out of, you came to the right article!
Got your coffee in hand? Let's go.
We'll start with an illustration of the anatomy of a climbing shoe.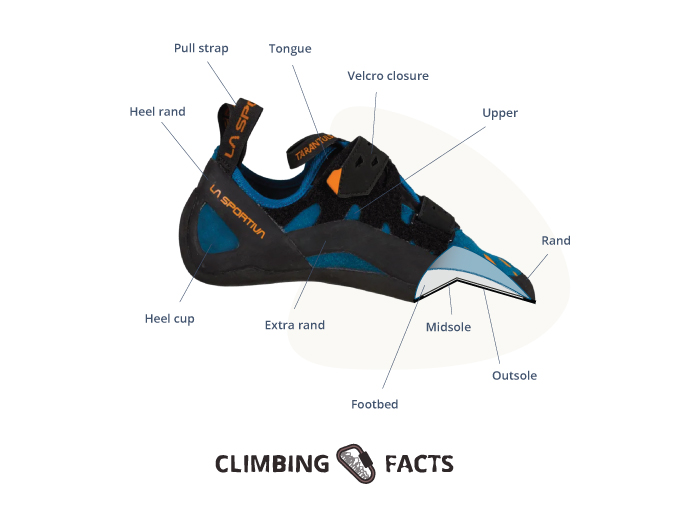 | | |
| --- | --- |
| Tongue | The (padded) bit that separates the top of your feet from the closure system |
| Closure | The closure system of a climbing shoe. Comes in lace, velcro and slip-on |
| Upper | The leather/synthetic material that holds the climbing shoe together |
| Rand | Protective rubber that is found all over the shoes (heel, mid-section, toe) |
| Outsole | The visible rubber at the bottom of the climbing shoes |
| Midsole | Invisible rubber that sits between the outsole and the footbed |
| Footbed | The bottom bit that your foot sits on inside the climbing shoe |
| Heel cup | Locks your heel in the climbing shoe |
| Pull straps | Pull straps are used to help get your heel in tight-fitting climbing shoes |
Pretty simple, right? Let's look at these features a little more in-depth.
A closer look at the features
Lace climbing shoes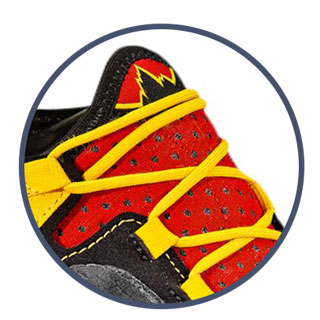 Having laces run all the way down the tongue of the climbing shoe, allows these shoes to have the most adjustable fit. For this reason, lace shoes are the preferred weapon for climbers with unconventional foot shapes.
Lace shoes are favored by traditional and big wall climbers. They are also common in sport climbing and even some boulderers swear by them.
You can't go wrong with a pair of lace climbing shoes.
Velcro climbing shoes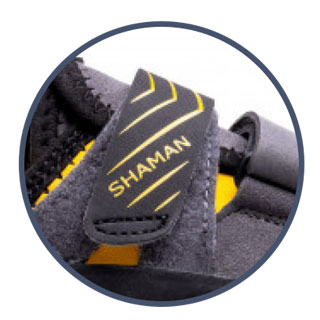 Velcro closure systems are commonly used in indoor climbing gyms, indoor and outdoor bouldering as well as sport routes. The reason being is that you can quickly put them on and take them off thanks to their velcro closure.
Being able to quickly take your climbing shoes off allows you to downsize your shoes more, allowing for a more performance-based fit.
Velcro closures allow for a less customizable fit than their lace counterparts, but they make up for that with their ease of use.
Velcro shoes shouldn't be used for traditional or big wall climbing.
Slip-on climbing shoes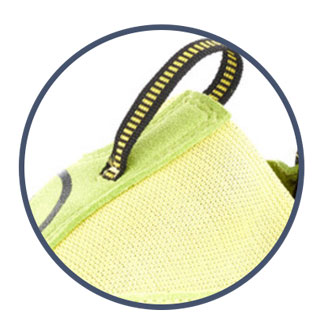 Slip-on climbing shoes are most commonly used by speed climbers. These aren't made for performance at all. Sometimes, you will see them being used by indoor climbers who are using them on training days but for the most part, they are a rare sight anywhere but the speed climbing route.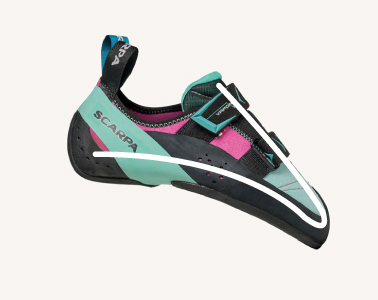 The upper of a climbing shoe is the leather or synthetic part of the shoe without the rubber soles and randing.
Most climbing shoes are made using a leather upper. However since leather requires animal skin, synthetic uppers offer a vegan-friendly alternative.
Leather
Leather uppers are found in most climbing shoes. They are the preferred choice as leather uppers are comfortable, durable and prevent odor.
One negative thing about leather uppers is that they stretch quite a bit, meaning that you have to size down to get a performance fit, this can make the break-in period of the shoe quite painful.
Synthetic
Synthetic uppers are used in vegan-friendly climbing shoes. These are slightly less comfortable and less breathable but they do come with the advantage that they don't stretch much at all.
Thus, the advantage of synthetic uppers is that you don't have to size down your climbing shoe, meaning they will feel comfortable from the get-go.
TIP: Since the upper will impact the stretch of the climbing shoe, you should always note whether the climbing shoe you are purchasing has a leather or synthetic upper.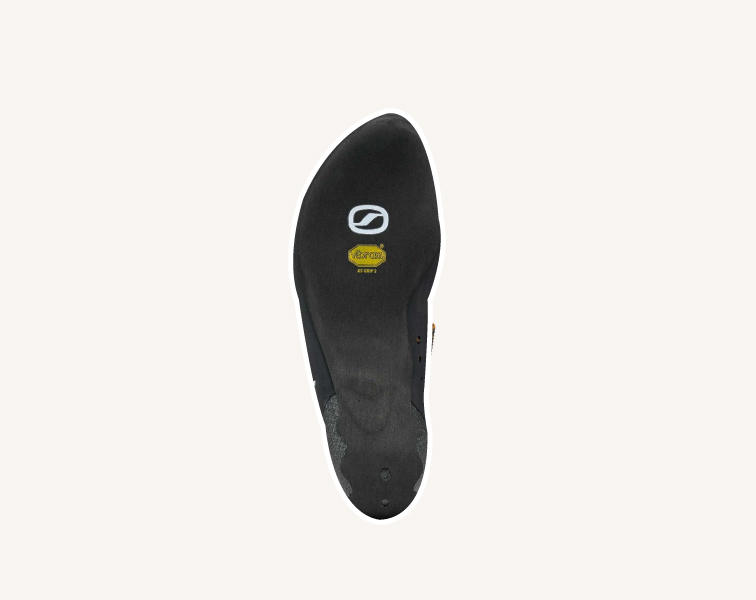 The outsole, or simply called sole, is the visible rubber part at the bottom of your climbing shoes.
We can split this rubber up in three identifiers: design, thickness, and hardness.
Rubber Design
This rubber can come in a single rubber design (e.g. LS TC Pros) or a split rubber design (e.g. LS Solutions) depending on the type of climbing shoe and its intended purpose. A single rubber design is necessary for big wall and crack climbing while a split rubbber design is designed for overhanging terrain.
Rubber Thickness
The outsole comes in a thickness ranging from 3 – 5 mm again dependending on its intended purpose. A thinner rubber design offers more sensitivity and makes the climbing shoe perform better at toe hooking, smearing, and volumes.
Meanwhile, a thicker rubber will offer support, making the climbing shoe better at edging, crack climbing, multi-pitch climbing and so on.
Thicker rubber soles are also found in beginner shoes as these climbers don't have the toe muscles and ligaments required for a climbing shoe with a thinner and softer rubber. As a side effect, a thicker rubber will also help beginners support themselves even with sloppier footwork.
Rubber Hardness
And finally, rubber can come in varying degrees of hardness. You have softer rubber like Vibram XS2 Grip and hard rubber like Vibram XS Edge. The former can excel at bouldering thanks to its added sensitivity whereas the latter will perform better at longer vertical routes.
When it comes to the rubber, the most common and best rubber is made by Vibram. Vibram rubber can be found on most La Sportiva, Scarpa, Ocun and Tenaya shoes.
They have three different rubbers available: XS Grip, XS2 Grip and XS Edge.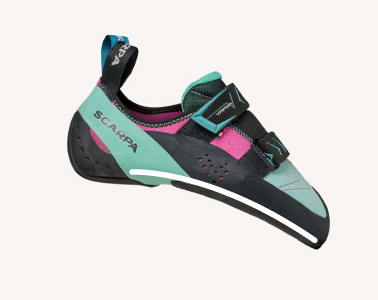 The midsole is the invisible rubber that sits between the outsole and the footbed.
Midsoles come in three variations: rigid, medium, and soft.
Rigid Midsoles
Designed for support, you'll find rigid midsoles are primarily used in climbing shoes designed for long vertical routes. These aren't great for bouldering and overhung terrain as the rigid midsole doesn't perform well in toe hooks, heel hooks or smearing. But they are necessary during multi-pitch routes where you really want your shoes to support you.
Rigid midsoles can also be found in beginner shoes where support is necessary as these climbers are still building up their toe muscles.
Medium-Stiff Midsoles
Medium-Stiff midsoles make up the ideal midground between rigid and soft midsoles. These can be found in climbing shoes that are designed for all-around climbing.
Soft Midsoles
Soft midsoles are designed for maximum sensitivity and can be found in shoes specifically designed with bouldering in mind. Climbing shoes with soft midsoles are smearing monsters and perform exceptionally well during toe and heel hooking. However, these offer very little support and thus should never be used for long vertical terrain where support is absolutely essential.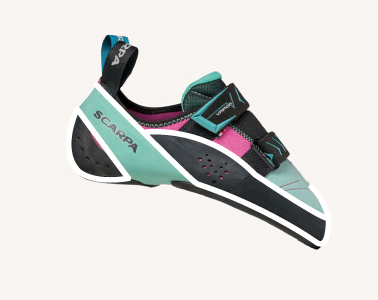 The rand encompasses all the rubber that is on top of the climbing shoe.
Randing can be found around the heel cup, the sides, the toes, and so on. Randing is designed to create a protective layer but also to keep the tension of the shoe.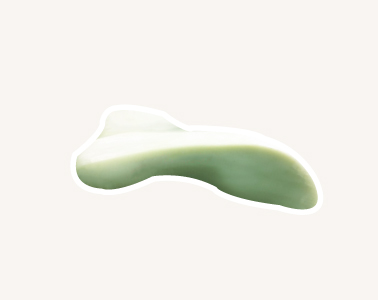 The last is the piece of mold that the entire climbing shoe is built around.
The last will define which feet are the best fit for a particular shoe. For example a narrow last is used for shoes that need a more low volume fit like women's models. On the other hand, a cambered last is used for shoes that require an aggressive downturn.
Oftentimes, climbers make the mistake of changing the size of a shoe to make up for a badly fit shoe. While this works sometimes, other times the shoe simply isn't right for you. This has to do with the last. Every shoe uses a different last so you will definitely run into shoes that simply don't fit your feet. Always try different models of climbing shoes and see which ones fit you best.
p.s. Did you know that you can often find the last model inside the tag of your shoe? You can use this info to shop for climbing shoes which use the same last.
Also interesting: How tight should climbing shoes be?
Different Types of Climbing Shoes
There are many different types of climbing shoes out there. And just like that, there are many ways to define different types of climbing shoes. After all a beginner doesn't climb in the same shoes as a professional climber does. Similarly, a trad climber doesn't climb in the same shoes as a boulderer does.
So here are two ways we can differentiate climbing shoes:
Climbing shoes based on climbing level
Climbing shoes based on climbing discipline
Climbing shoe Types based on climbing level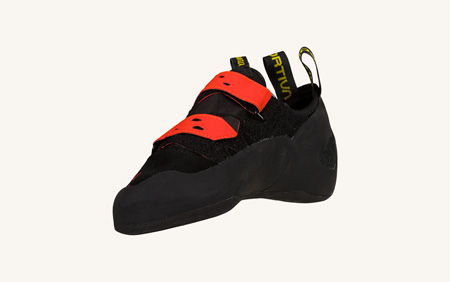 Shoes aimed towards beginner climbers usually have a thicker outsole of around 4 or even 5mm to offer as much support as possible.
The outsole on beginner shoes covers the entire shoe. The invisible midsole is usually rigid and above 1.5 mm in thickness as well, again to provide support to the newer climber.
Beginner climbing shoes often are quite a bit cheaper than intermediate or performance shoes as well. This is because the shoes use cheaper materials. For example, you won't find Vibram rubber on most beginner shoes.
Another thing I've noticed is that beginner shoes aren't always designed in the same factories as other counterparts, again to reduce the price. For example, La Sportiva is known for making hteir shoes in their own factory in Italy but La Sportiva Tarantulas read "made in China" on its inside tag.
Here's a list of popular beginner climber shoes:
La Sportiva Tarantula
Black Diamond Momentum
Scarpa Origin
Intermediate Climbing Shoes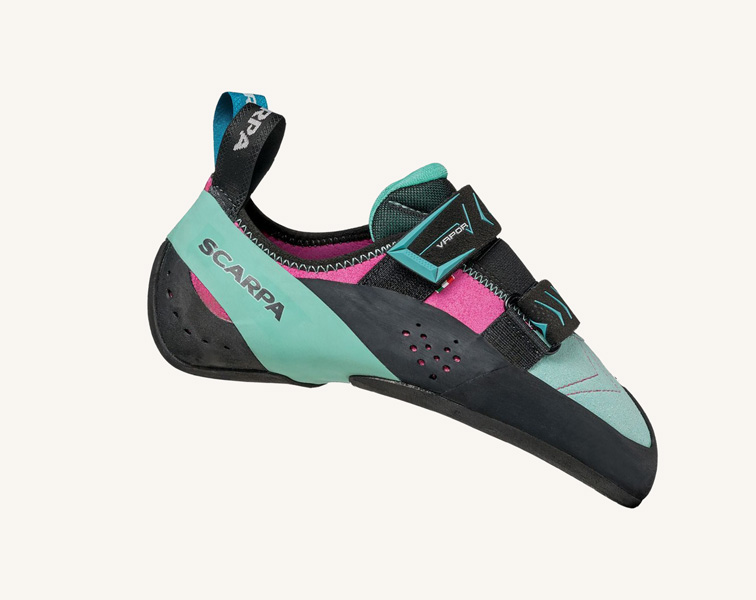 Intermediate climbing shoes is where you start noticing differences between models. While most beginner climbing shoes have a stiffer mid and outsole and no visible asymmetry, on intermediate climbing shoes this all depends on the intended purpose.
Compared to beginner shoes, you'll notice most intermediate shoes designed for shorter routes will feature a slight or moderate downturn.
You'll also find that many intermediate climbing shoes can function as an all-around climbing shoe and are great for multiple disciplines.
To get the best performance out of an intermediate climbing shoe, the climber might want to downsize from their beginner shoe size and fit for a slight to moderate toe curl.
Many long-term climbers prefer to stick with intermediate shoes instead of moving on to a performance shoe due to the comfort that intermediate shoes offer as well as their ability to work well in multiple climbing disciplines.
Here's a list of popular intermediate climbing shoes:
Scarpa Vapor V
La Sportiva Otaki
La Sportiva Miura
Five ten Anasazi
Performance Climbing Shoes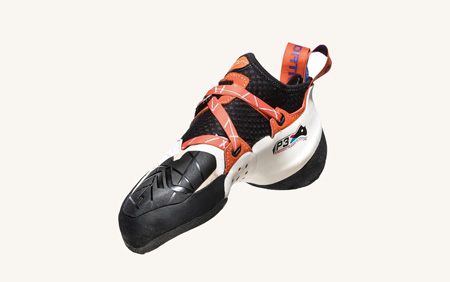 Performance climbing shoes aren't designed for all-around climbing but are specialized shoes designed for hardcore climbers.
The ideal customer for a performance climbing shoe is someone who has been climbing hard for multiple years and their feet are used to sitting in a tight space.
These shoes come with an aggressive downturn and should be worn with a moderate to agressive toe curl, requiring most climbers to size down the shoe from their intermediate model.
Climbers with performance shoes use different shoes for different climbing disciplines (e.g. LS TC Pros for crack climbing, LS Solutions for sport climbing and Scarpa Drago's for bouldering).
Here's a list of popular performance climbing shoes:
La Sportiva Solutions
La Sportiva Theory
Scarpa Drago
Scarpa Instinct VSR
Five ten Hiangle
Climbing shoes based on climbing discipline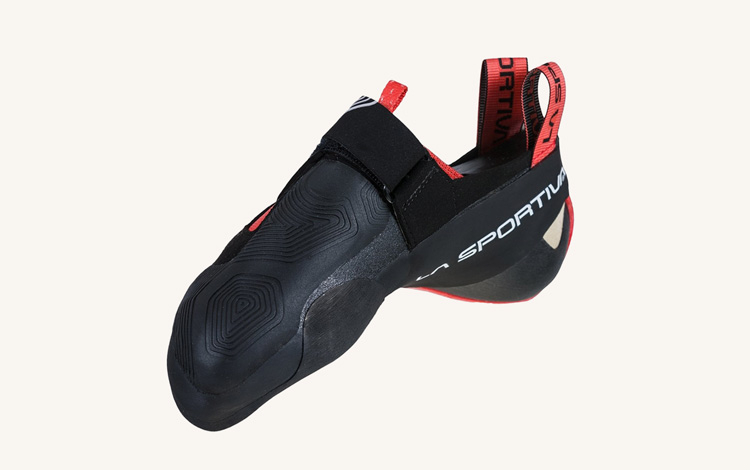 Typically, bouldering shoes are highly assymetric, downturned shoes with a soft rubber and a velcro closure sytem.
The downturned nature allows the boulderer to tackle more challenging, overhung terrain.
Soft rubber is used to take advantage of smears and volumes. And finally, a velcro closure is used in bouldering shoes to quickly get in and out of the shoes after finishing a boulder problem.
Bouldering shoes are not designed for comfort and are often sized down a lot to get the tightest possible fit. Most boulderers only put their shoes on right before tackling a problem and take them off immediately after.
Examples of Bouldering shoes:
La Sportiva Theory
Scarpa Drago
Scarpa Instinct VS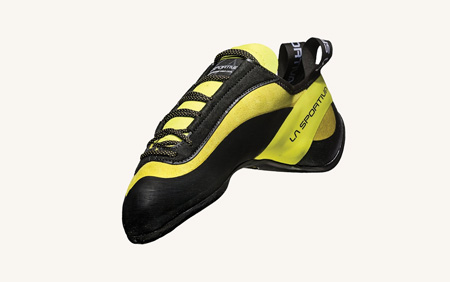 It's hard to cater to sport climbing routes are there are so many different kinds of terrain. Some terrains are very vertical, requiring a stiffer, less downturned shoe while other might be overhung requiring a softer, more aggressive shoe.
To best cater to different kinds of sport climbing routes, you'll want to opt for a shoe with a medium-stiff sole and a moderate downturn.
Examples of sport climbing shoes:
La Sportiva Miura
La Sportiva Solutions
Scarpa Instinct VS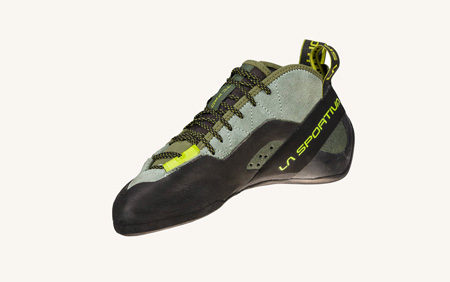 For trad climbing, you'll want to have stiff, flat shoes with a lace design for the best possible fit.
The flat design will keep your feet comfortable on long trad routes and will help you perform in cracks. The stiff soles will support you and prevent your feet from tiring while you are ascending.
A great example of a trad climbing shoe is the La Sportiva TC Pros. This is the shoe that Tommy Caldwell used to make the first free climbing ascent of the Dawn Wall. On top of that, this shoe was also used by Alex Honnold to free solo El Cap. Both these legendary climbers actually helped design the shoe, making it the perfect example of a high performance trad climbing shoe, and arguably, the best trad climbing shoe out there.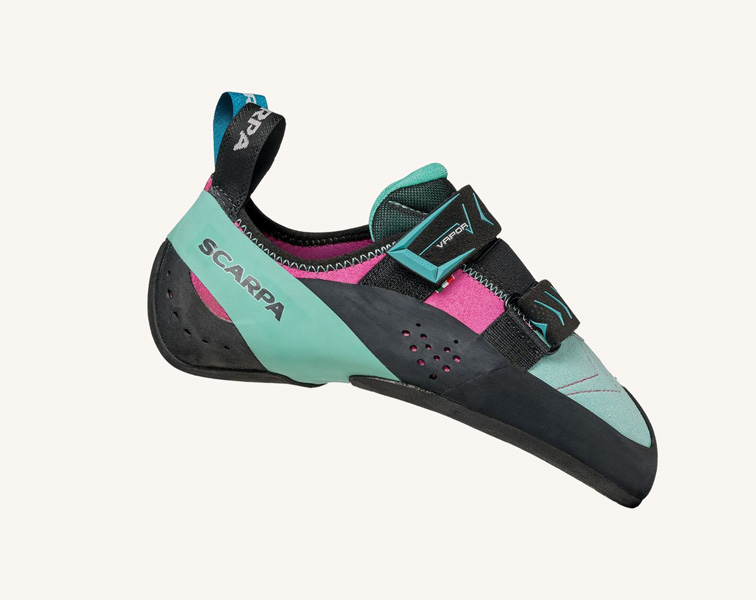 For gym climbing, you'll want to have a shoe that is comfortable enough that you can keep it on for your entire session. This is especially important if you are a beginner climber. If you are, check out our beginner climbing shoe section.
If you have been gym climbing for a while, and you're looking for a more performance-oriented fit, you should get a shoe with a velcro or Z-strap closure system.
Examples of gym climbing shoes:
La Sportiva Tarantula (beginner)
Scarpa Vapor V (all-around)
La Sportiva Solution Comp (performance)
That's everything you need to know about the anatomy of a climbing shoe and its many features. Hopefully, you've learned a bunch of new stuff about the features and different types of climbing shoes that will aid you in buying better fitting climbing shoes!
---
Continue Reading
---
More articles on Climbingfacts