What is Adam Ondra's net worth?
Adam Ondra's estimated net worth is $1.5 million USD.
Who is Adam Ondra?
Adam Ondra is widely considered to be the best climber in the world. He has achieved this title through his remarkable feats such as being the first climber to flash a 9a+ route, making the first ascent of a 9c graded route and free climbing the Dawn Wall in just 8 days.
Aside from his remarkable ascents on real rock, Ondra is also known for having over 20 gold medals in the Climbing World Cups as well as being the first climber to win both the Bouldering and Lead Climbing World Cups.
How does Adam Ondra make money?
As a professional climber, Adam Ondra makes money in a variety of ways all related to climbing.
Here's a little run-down of how Adam Ondra makes money:
Competition Prizes
Sponsorships
YouTube Advertisements
Merch
Speaking Gigs
Climbing Gym
👉💰 Or [SKIP HERE] to see how much Adam Ondra makes per month.
Adam Ondra has won his fair share of competitions, and these competitions come with cash prizes.
Some of his most notable wins are placing first in 3 different lead-climbing World Cups as well as one bouldering world cup. In 2014, he placed first in both Bouldering and Lead Climbing during the World Championship and until today remains the only climber to ever achieve this feat.
Climbing competitions have notoriously low prize pools. In many competitions, the first three placements will net a climber anywhere between $500 and $5000 USD.
Most competitions never disclose their prizing pools making it very hard to estimate how much a climber makes from these competitions.
If we consider an average $2000 per medal and we know that Adam Ondra has receives at least 35 medals in the World Cup (21 of which are gold medals) we can assume that Adam Ondra has made at least $70k from climbing competitions.
The bulk of Adam Ondra's income likely comes from sponsorships.
Adam ondra has a number of sponsors:
La Sportiva
Mammut

Euroholds
As climbers are contractually obligated to never disclose their sponsorship earnings, how much Adam Ondra makes from sponsorships remains unknown.
Considering Adam Ondra's status as the World's best climber, he most likely makes a lot more from sponsorships than your average professional rock climber. We estimate that Adam Ondra makes between $100k – $200k per year from sponsorships.
Adam Ondra is among one of the best-known climbers in the world. Due to this, he has a wide following on his YouTube channel which boasts 380 thousand subscribers. Making him one of the most-subscribed climbing YouTubers out there.
Ondra's videos on YouTube are of exceptional quality. Each video has a credited producer, director, and multiple camera operators.
Adams' most-watched YouTube video is a documentary-style video based on his ascent of the world's first-ever 9c route called 'Silence'.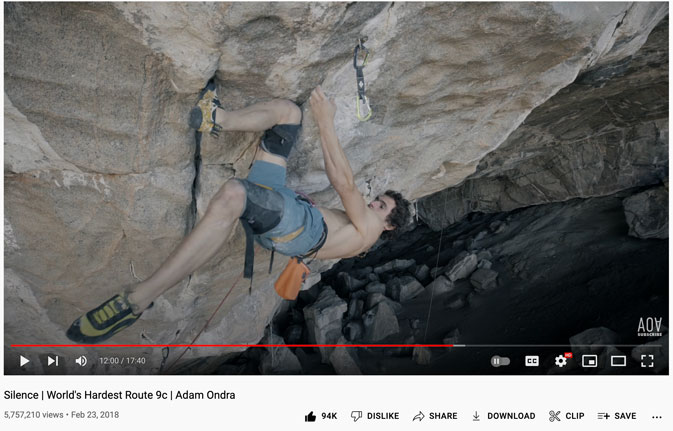 On YouTube, climbers can make money from advertisements displayed on their videos. These advertisements can make a YouTuber anywhere between $3 – $5 per 1000 views.
According to SocialBlade, Adam Ondra has an average of 1 million total views on his YouTube channel every month. Considering a $4 CPM, we estimate that Adam Ondra makes $4000 per month from his YouTube channel.
On his personal website, Adamondra.com, Adam's team sells merchandise in the form of postcards and a coffee-table photo book.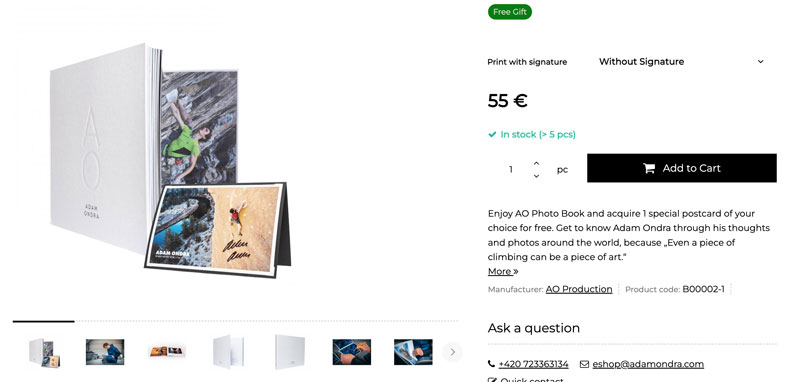 His photo book is the perfect addition to any climber's home library. The photo book contains 223 total pages which are made up of 153 spectacular photographs and 12 essays written by Adam himself.
The book can be bought in signed and unsigned versions. The signed version retails for 80 euros ($85 USD) while the unsigned retails for 55 euros ($60 USD).
Let's say the photobook costs 30 dollars to make, that leaves 30 – 55 dollars in profit. If Adam Ondra sold the book to 1% of his audience, it would have made him between $114k – $209k since the release. Converted into months, the photobook would have made Adam $4k – $7.5k per month.
Adam Ondra, like many other notable climbers, can also be booked for speaking gigs. Booking Adam can be done through AllAmericanSpeakers.com.
It is unclear to us how often Adam Ondra gets booked for such speaking gigs or how much he charges for them.
Adam Ondra's Climbing Gym
As die hard Adam Ondra fans may know, Ondra also owns a climbing gym in his home town Brno.
This old-school type gym is the climbing gym Ondra grew up training in and when he found out the gym was being sold, he hopped on it to prevent any future owners from changing the concept of the gym. Adam revealed this in a Magnus Midtbø video which also features the gym.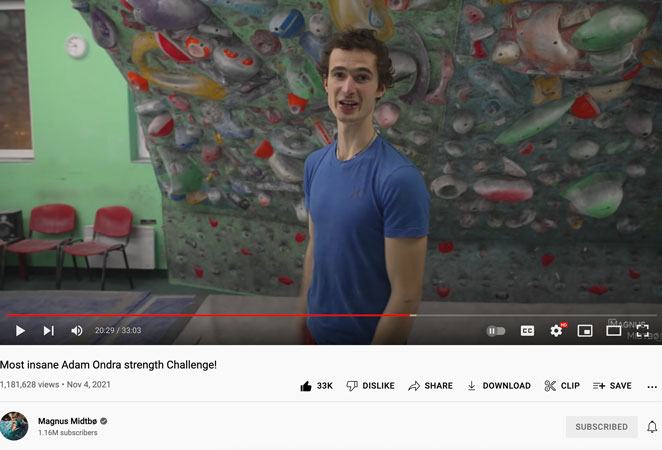 Adam's climbing gym is called Kotelna Boulder. Entrance fees are 80 CZK ($3.40 USD) and annual memberships cost 3,990 CZK ($167 USD). Memberships come with key access as the gym is only attended on weekdays from 3 to 8 PM.
Considering how cheap access to the gym is, Adam Ondra likely doesn't make too much money from this gym and most likely owns it for sentimental and personal training reasons.
If we assume this gym has annual 100 members (which is considered below average) and sells 20 day passes per day, Adam Ondra's climbing gym in Kotelna would generate around $30k per year.
Aside from his old school gym in Kotelna, Adam Ondra is also partnered with a huge mainstream bouldering gym in Brno called The Hangar. This gym is also named 'Adam Ondra Climbing Playground' which makes some fans believe that Adam Ondra owns the gym. This is actually not untrue. He owns the bouldering gym Kotelna, not The Hangar. He is partnered with the Hangar and helped design the wall. Ondra is likely receives money from this partnership as this gym is benefiting from using Adam Ondra's name and brand recognition.

It is unclear to us how much money he makes from this partnership.
The Hangar is a massive 1200 square meter state-of-the-art bouldering gym with a built-in cafe and shop.
How much does Adam Ondra make per month?
Adam Ondra makes an estimated $18k – $26k per month from his climbing. The majority of his income comes from sponsorships with some additional income being made from merch sales and advertisements on his YouTube channel.
Here's how this sums up:
Sponsorships:

$8-16k per month

YouTube: $4k per month
Merch: $4k per month
Climbing Gym: $2k per month
Annually, we estimate that Adam Ondra makes between $216k and $312k per year.
How did Adam Ondra get started with climbing?
1999: Adam Ondra started climbing at just 6 years old as both his parents were fervent climbers as well.
2001 – 2006: Adam Ondra quickly became known as a climbing prodigy as he onsighted 7b+ routes at just eight years old. He started onsighting 8a just two years later and eventually managed to redpoint a 9a at just thirteen years old.
2007 – 2008: At 14 years old, Adam Ondra won the IFSC World Youth climbing championship. The following year, he won again.
2009: At just 16 years old, Adam Ondra participated in the adult version of the IFSC World Cup for the first time. He won 4 out of 6 lead climbing world cups of the 2009 season and won both the overall men's lead climbing title as well as the combined climbing title.
2010: At 17 years old, Adam Ondra won the Bouldering World Cup. This was a remarkable feat not only based on his age but also because he would become the first climber to win World Cups in both Lead Climbing as well as Bouldering.
2011: At 18 years old, Adam Ondra became the second person in the world to onsight a 8c+ (5.14c) route.
2012: At 19 years old, Adam Ondra became the first person to redpointed the world's first ever 9b+ (5.15c) route.
2013: At 20 years old, Adam Ondra became the second person to onsight a 9a graded route.
2014: During the 2014 world cup, Adam Ondra received gold medals in both the Lead Climbing and Bouldering divisions of the World Cup, becoming the first ever climber to do so.
2015: In 2015, Adam Ondra won the world cup in both Lead Climbing and combined climbing.
2016: Adam Ondra free climbed the Dawn Wall in only 8 days. He was the third person to ascent the Dawn Wall after the route was mapped by Tommy Caldwell and Kevin Jorgeson.
2017: On September 3rd, Adam Ondra made the world's first ever ascent of a 9c route called 'Silence'.
2019: In 2019, Adam Ondra won the Lead Climbing World Cup and placed second in the Bouldering World Cup.
2021: In April of 2021, Adam Ondra received his 20th gold medal after winning in the bouldering discipline of the world cup. That same year, Adam Ondra placed 6th in the 2020 Tokyo Olympics.