Climbing is an exhilarating sport. It forces you to challenge yourself, to conquer your fears. It improves the mind, keeps you healthy, and gives you friends for life.
The best part of climbing is when it all clicks and gravity ceases to exist.

Chris Sharma
Want to increase your knowledge on rock climbing? Here are 50 facts about climbing.
1. The first documented rock climb dates back to 1492
Long before rock climbing became a sport, there has been documentation of rock climbing dating as far back as 1492. That year, in France, Antoine de Ville ascended a peak called 'inaccessible' on the orders of King Charles VIII.
Antoine used a combination of ladders & grappling hooks to ascend the 1000 feet (300m) peak. After the first documented send, Antoine renamed it Léguille. The mountain itself is known as Mont Aiguille and is located in Grenoble, France.
2. Rock Climbing wasn't officially recognized as a sport until the late 19th Century
While numerous ascents were made before, it wasn't until the 1880s that rock climbing would be recognized as a recreational activity. While there is reason to argue, many (mostly Brits) consider that the sport of rock climbing started with Walter Parry Haskett Smith, who is known as the Father of Rock Climbing.
In 1886 Haskett Smith made the first ascent of Napes Needle, located in the Lake District. The news was made public (as Haskett Smith was wealthy) and spiked a lot of interest from the British in this adventurous new sport.
3. Bouldering originated in Fontainebleau
The earliest documented form of bouldering dates back all the way to 1874 when climbers in John Gill's words were 'scrambling about on boulders' in Fontainebleau, France.
In the 20th Century, Alpinists started traveling to the forest of Fontainebleau to practice on its boulders for the alps. It wasn't until Pierre Allain came along in 1930 that Bouldering would become recognized as a sport as opposed to mere training activity.
Ever since then, the forest of Fontainebleau has become a mecca for rock climbers.
4. Rock Climbing is one of the only sports that works the entire body
Climbing is one of the few sports out there that trains almost every muscle in your body, making it one of the best full-body workouts out there. According to WebMD, rock Climbing targets the following areas:
5. Climbing made its debut at the 2020 Tokyo Olympics
Climbing finally made its Olympic debut a the 2020 Olympics in Tokyo. It didn't do so without its fair bit of controversy though. For starters, the Olympics only gave medals for a combined result in bouldering, lead climbing, AND speed climbing. While lead climbing and bouldering are quite similar, speed climbing is an entirely different sport and should have been kept separate.
Naturally, this resulted in widespread criticism from prominent figures in the climbing world.
"That is like asking a middle distance runner to compete in the sprint. Speed climbing is a sport within our sport."

Lynn Hill for Climbing Magazine
Luckily, in the 2024 Olympics, Speed Climbing will be a separate category from lead climbing and bouldering.
Here were the results if you are interested:
Gold men's climbing: Alberto Ginés López
Gold women's climbing: Janja Garnbrett
6. There are 8 different types of Climbing
Rock Climbing can be split up into at least 8 different types, do you know them all?
Mountaineering
Mountaineering (Alpine Climbing) is the oldest type of climbing where the purpose is to summit a mountain through any means necessary. Summits may require a combination of free climbing, aid climbing, ice climbing, and so forth. Some mountaineers use oxygen bottles to summit large mountains such as Everest and K2.
Aid Climbing
Aid climbing is a style of climbing where the climber uses equipment to ascent a rock. This is very different from free climbing where climbers use their bodies to ascend a rock and use equipment only for protection.
Nowadays, aid climbing has been mostly replaced by free climbing and is only used when free climbing is impossible.
Ice Climbing
Ice Climbing is a type of (usually) roped climbing that occurs on icefalls, cliffs and any rock slabs that are covered in ice. Ice climbing is often part of a mountaineering summit but is also seen as a sport of its own. Ice climbers use tools such as crampons and ice axes to make their ascent.
Sport Climbing
Sport climbing is a form of protected free climbing where the climber climbs a prebolted route. Sport climbing routes are usually short and follow a permanent line, allowing the climber to focus on climbing the rock face instead of worrying about placing gear.
Trad Climbing
Trad Climbing or traditional climbing is also a form of protected free climbing but herein the climber will place their own protection and remove it afterwards.
Bouldering
Bouldering is a sport where climbers ascend small rocks that are under 17 feet in height without the use of roped protection. Boulderers instead rely on crash pads and mats to break their fall.
Free soloing
Free soloing is the act of climbing without any type of protection. Unlike bouldering, free solo climbs have no height limit. The current hardest known free solo happened in 2017 when Alex Honnold free soloed the Freerider route on El Capitan (5.12d).
Deep water soloing
Deep water soloing is a style of outdoor climbing done on cliffs where the climber isn't using any protection other than the water underneath to catch their fall.
7. The hardest sport climbing route is Silence (9c/5.15d)
The current hardest sport climbing route is a 9c (5.15d) graded climb called Silence which was ascended by Adam Ondra in 2017. Adam named the route Silence after his unusually silent celebration upon clipping the final quickdraw. The route is located in the iconic Flatanger cave, Norway.
Until today, nobody has made a second ascent of Silence.
On April 29, 2022, Seb Bouin proposed a second 9c route he ascended called 'DNA'. This route is located in Verdon Gorge, France.
8. The hardest boulder problem is Burden of Dreams (9A/V17)
The current hardest boulder problem is called Burden of Dreams. The problem was first ascended by Nalle Hukkataival on the 23rd of October in 2016. Nalle proposed a grade of 9A (V17). Burden of Dreams has not yet been repeated.
9. The Dawn Wall is the most difficult Big Wall climb in the world
By far the hardest big wall climb in the world is located on Yosemite's El Capitan. Its southeast face, also known as the Dawn Wall was long thought of as impossible to climb. That was until the 9 fingered climbing legend Tommy Caldwell made a free climb ascent of the Dawn Wall his life goal.
It took him 7 years in total to plan the climb and find the perfect line but in 2015, Tommy Caldwell and his partner Kevin Jorgeson successfully ascended the Dawn Wall.
The entire process and the final ascent were documented in the 2017 film: the Dawn Wall.
The dawn wall consists of 32 pitches and has an overall grade of 5.14d.
Until today, only three people have successfully free climbed the Dawn Wall: Tommy Caldwell, Kevin Jorgeson, and Adam Ondra.
10. Alex Honnold made a free solo ascent of El Capitan
In what is considered to be one of the greatest athletic achievements ever, Alex Honnold made a free solo ascent of El Capitan. This means he climbed a 3000-foot rockface (900m) without any kind of protection.
What makes this feat even more impressive is that the Freerider route that he climbed is graded 5.12d and takes most Yosemite climbers 4 days to complete. Alex Honnold did it without protection, in just 3 hours and 56 minutes. Complete, madness.
Alex Honnold had already made a name for himself by completing numerous free solo ascents, Half Dome being one of them, but his feat on El Capitan changed the game of rock climbing forever and turned Alex Honnold into the most famous climber alive.
The entire free solo ascent and his journey were documented in the film documentary Free Solo.
11. Free solo won an academy award for Best Documentary Feature
Free Solo, the documentary film that features Alex Honnold's ropeless ascent of El Capitan, won an Oscar for Best Documentary Feature at the 2019 Academy Awards.
The film also won 6 primetime Emmys, 1 BAFTA, and a number of other awards.
12. Fontainebleau has more than 35,000 boulder problems
The forest of Fontainebleau, also known as the mecca of bouldering, houses more than 35,000 boulder problems according to bleau.info. At least, those are the boulder problems that are listed on the site. Potentially, there are even more.
With that many boulder problems, Fontainebleau has by far the highest density of boulder problems in the world.
13. Yosemite National Park houses more than 1,300 boulder problems
On the other side of the pond, Yosemite National Park is a great alternative to Fontainebleau. With over 1,300 boulder problems listed in the Yosemite bouldering guidebook, Yosemite Valley will keep you busy for a while.
14. You have likely worn climbing shoes designed by Heinz Mariacher
Heinz Mariacher is likely the biggest name in the world of climbing shoes. Having been a climber for more than 60 years, a pioneer of free climbing, a free soloist, and having established many routes in the Dolomites, Mariacher is definitely a climbing legend that we don't hear enough about.
Here are some of the most-used climbing shoes Mariacher has worked on:
Scarpa Vapor V
Scarpa Drago
Scarpa Furia
Scarpa Chimera
Scarpa Booster
Scarpa Veloce
La Sportiva Mythos
La Sportiva Solution
La Sportiva Katana
La Sportiva Miura
La Sportiva Cobra
Mariacher designed the La Sportiva Mariacher in 1982, a shoe that would change climbing history forever. The now infamous climbing shoe featured a rubber compound that could rival the best performance shoe at the time. Additionally, it was one of the first lined climbing shoes that were able to mold to the climber's foot.
The Mariacher was an instant success and Heinz kept designing shoes for La Sportiva until 2005 when he joined Scarpa as product manager.
15. Mishka Ishi is the youngest person to send an 8C/V15 graded boulder
At just 13 years old, Mishka Ishi successfully sent Byaku-dou, a V15 graded boulder. Simultaneously, she also became the third female climber to send a V15 boulder. By doing so, Misha broke the previous record set by Ashima Shiraishi who previously had the record for climbing Horizon (V15) at 14 years old.
16. Andrea Chelleris is the youngest person to climb a 9a graded route
Andrea Chelleris currently holds the record for the youngest ascent of a 9a graded route. At just 12 years old he sent 'Pure Dreaming', a 9a graded route in Arco, Italy. He broke the record from Illya Bakhmet-Smolensky and Ashima Shiraishi who sent the grade at 13 years old.
17. Adam Ondra is the only climber who has won the World Cup in both disciplines
Adam Ondra has struck gold at the World Cup Series in both Lead Climbing and Bouldering. He won gold in 2010 for bouldering and gold for lead in 2009, 2015, and 2019.
Additionally, Adam Ondra won the World Championship title in both Lead Climbing and Bouldering in 2014.
18. Only 7 climbers have climbed routes graded 9b+
So far, the following 7 climbers have climbed routes graded 9b+ or higher:
| Climbers | Highest Grade |
| --- | --- |
| Adam Ondra | 9c (Silence) |
| Sébastian Bouin | 9c (DNA) |
| Chris Sharma | 9b+ (La Dura Dura) |
| Alex Megos | 9b+ (Bibliographie) |
| Stefano Ghisolfi | 9b+ (Perfecto Mundo) |
| Jakob Schubert | 9b+ (Perfecto Mundo) |
| Sean Bailey | 9b+ (Bibliographie) |
source
19. The current speed climbing record is 5.009 seconds
The current speed climbing record on the standardized wall is held by Kiromal Katibin who managed to climb the speed wall in just 5.009 seconds at the 2022 World Cup in Chamonix, France.
That's not the only record Kiromal broke at the world cup in France. He broke the speed record 5 times throughout the event. His first time was 5.17 and his final time was 5.009.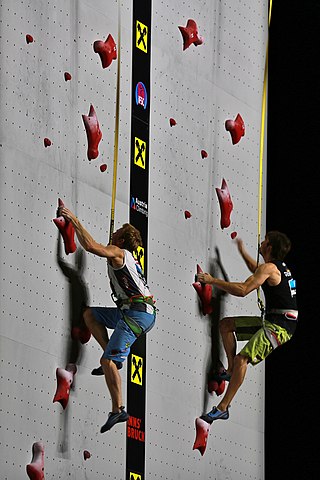 20. There are 14 mountains over 8,000 meters
For those interested in mountaineering facts, there are 14 mountains that are over 8,000 meters high. These are known as Eight-thousanders.
| | | | |
| --- | --- | --- | --- |
| 1 | Mount Everest | 8,848 | Nepal/China |
| 2 | K2 | 8,611 | Pakistan/China |
| 3 | Kangchenjunga | 8,586 | Nepal/India |
| 4 | Lhotse | 8,516 | Nepal/India |
| 5 | Makalu | 8,485 | Nepal/India |
| 6 | Cho Oyu | 8,188 | Nepal/India |
| 7 | Dhaulagiri I | 8,167 | Nepal |
| 8 | Manaslu | 8,163 | Nepal |
| 9 | Nanga Parbat | 8,126 | Pakistan |
| 10 | Annapurna I | 8,091 | Nepal |
| 11 | Gasherbrum I | 8,080 | Pakistan/China |
| 12 | Broad Peak | 8,051 | Pakistan/China |
| 13 | Gasherbrum II | 8,035 | Pakistan/China |
| 14 | Shishapangma | 8,027 | China |
Source: Wikipedia
21. It costs between $30 -$80k to climb mount Everest
The price of climbing mount Everest lies between $30 – $80k USD. Price includes transportation, food, base camp accommodation, tents, supplemental oxygen, sherpa support, and guides.
22. Everest has claimed the most deaths
Since 1922, 311 people have died on Everest. Everest claims an average of 5 climbers every year. This makes Everest one of the safer eight-thousanders out there. Until 2022, 6,098 people have successfully summitted Mount Everest.
23. K2 is the deathliest mountain
At 8,611 meters, K2 is the second tallest mountain in the world. But compared to Everest, attempting a summit is much more deadly. 1 in 4 people who have attempted K2 have died on their way to the summit. Making K2 the deathliest mountain in climbing history.
It's only fitting K2 has received the nickname killer mountain.
24. The youngest person to summit Everest was only 13 years old
American climber Jordan Romero was only 13 when he summitted Mount Everest on the 22nd of May, 2010 on a family trip to Nepal. Later on, he made a successful ascent of Vinson Massif at 15 which made him the youngest person to ever complete the seven summits. The seven summits are a mountaineering challenge where you summit the 7 highest peaks on each continent.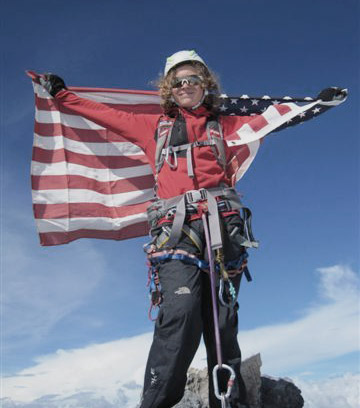 25. The fastest ascent of mount Everest was done in under 11 hours
Lakpa Gelu Sherpa currently holds the fastest Everest ascent ever with a time of 10 hours and 56 minutes. This record is controversial as the fastest ascent previously belonged Pemba Dorje Sherpa who had a time of 8 hours and 10 minutes.
Pemba held this record for 13 years and held a certificate from Guinness World Records before the supreme court stripped him of his record in 2017 for not providing enough proof.
Lakpa made his ascent in 2003 and Pemba claimed to have broken this record in 2004. Lakpa challenged the claim and this resulted in the Nepal supreme court stripping Pemba of his record meaning Lapka still holds the record for the fastest ascent of Everest.
26. Most prominent rock climbers started in their childhood
While it is definitely possible to start climbing later in life, you likely won't become a prominent climber if you didn't start in your early childhood. Here are some of the most prominent climbers out there who started early in life.
| Climbers | Started climbing |
| --- | --- |
| Stefano Ghisolfi | 11 years old |
| Alex Megos | 6 years old |
| Shauna Coxsey | 4 years old |
| Chris Sharma | 14 years old |
| Lynn Hill | 14 years old |
| Alex Honnold | 11 years old |
| Adam Ondra | 8 years old |
| Tommy Caldwell | 3 years old |
27. Climbing has a lower chance of dying than you might think
Studies have shown that the odds of dying on a climb are 1 in 320,000. And the crude death rate for climbing per 100,000 people is 0.31. This makes climbing safer than other sports such as horse riding (0.57), Tennis (0.86), Football (0.97), sky diving (0.99), running (1.03), and swimming (1.77).
28. The fastest big wall climb was done on the Nose of El Capitan in under 2 hours
In June of 2018, Alex Honnold and Tommy Caldwell broke the speed record on the Nose of El Capitan by climbing the rock in just 1:58:07. The entire climb is documented in Reel Rock which can be watched on Redbull TV.
The previous record for the nose belonged to Jim Reynold and Brad Gobright at 2:19:44.
29. The biggest climbing gym in the world is located in Munich, Germany
DAV Climbing and Boulder Center in Munich, Germany is the largest climbing gym in the world. This gym was originally constructed in 1989 and has since expanded so much it has by far the largest climbing surface of any climbing gym.
DAV features lead and bouldering walls both indoor and outdoor. It also has a training area, a children's area, and a café.
I thought it would also be worth it to mention the Kletterzcentrum in Innsbruck, Austria. This is the largest climbing gym that was build at once. It opened in 2017 meaning it's still brand new and was built by Walltopia over the course of 8 months. The Kletterzcentrum features 5,826 square meters of climbing surface.
30. The biggest climbing gym in the USA is located in Oakland, California
Pacific Pipe is the current largest climbing gym in the USA. It is located in Oakland, California and has a total climbing surface of 4,274 square meters (46,000 square feet).
Out of its 46,000 square feet surface, 33,000 square feet is made dedicated to rope climbing and 13,000 square feet to bouldering.
This climbing gym is part of the Touchstone Climbing chain which has 14 other climbing locations in California. Pacific Pipe opened in 2021 and was named after its building which used to be a pipe factory.
31. There are 3 different types of rock you'll encounter when climbing outside
Limestone
Granite
Sandstone
32. Genetics play a big part in climbing progression
Climbing is a sport where genetics play a massive factor in the progression one can make. This is particularly noticeable in bouldering where an average climber can go from V0 – V5 in a single year. A climber with great genetics can go from V0 – V10 in the same time span.
33. Chalk wasn't introduced in climbing until 1950
Before John Gill discovered bouldering in the 1950s, climbers weren't using any type of chalk. They would use dirt from the ground to use that little bit of grip. But then John Gill came around, a gymnast who fell in love with bouldering.
Gill would use the dynamic skills he developed through gymnastics and apply them to boulder problems. Naturally, he used chalk to do so. It wasn't long before other climbers started copying him and the rest is history.
34. Font and V-scale are the two main bouldering scales used around the world
In bouldering, two grading scales are most commonly used: the font scale and the v-scale. The Font scale is used in Europe and Asia whereas the V-scale is used in North America and the UK.
The Font-scale originated in Fontainebleau and ranges from 4 – 9A.
The V-scale originated in Hueco Tanks and ranges from V0 – V17.
Learn how to convert font to v-scale and vice versa
35. French and YDS are the main climbing scales used around the world
Climbing has two main grading scales that are used around the world: the French system and the Yosemite Decimal System. The French system is used primarily in Europe and the YDS system is used in North America.
The French system ranges from 4 – 9c.
The YDS system ranges from 5.0 to 5.15.
⚠️ The French grading system for climbing is not to be confused with the Font grading system for bouldering. Both use the same format but cater to different climbing disciplines.
36. Powdered chalk is bad for your health
Inhaling chalk dust can lead to respiratory problems. This is especially common in indoor climbing gyms where an abundance of chalk dust is floating in the air. Chalk dust can worsen ashtma and even lead to long term problems. Some reported short term issues caused by chalk dust include headaches, nasal congestion and sore throats.
With the rising popularity of liquid chalk, more and more climbing gyms are starting to ban powdered chalk in favor of liquid chalk.
37. Studies have shown that climbing can help relieve lower back pain
Multiple studies have shown that when performed in low dosage, with proper form, climbing can help relieve chronic low back pain. Climbing activates and builds up muscles in your core. Those with strong abdominal muscles, suffer less back pain as their upper and lower back are working less harder.
Of course, climbing with improper form, or excessive amounts of climbing, can result strain your back and result in back pain as well.
38. Alex Honnold is the wealthiest Rock Climber
With an estimated net worth of $3 million, Alex Honnold is the wealthiest rock climber alive. Through the massive success of Free Solo, Honnold's fame skyrocketed resulting in him constantly being booked for talks as well as making tv appearances. He also came out with a book, receives royalties from Free Solo, and gets paid handsomely by his sponsors.
39. In 2005, a couple got married on top of Mount Everest
On May 30th, 2005, Pem Dorjee Sherpa and Moni Mulepati exchanged vows on the summit of Mount Everest and became the first (and only) couple ever to get married on top of an eight-thousander.
As they had no certainty they would reach the summit, they kept their plans secret from friends and family. The ceremony lasted 10 minutes and required them to briefly take off their oxygen masks.
40. The IFSC was founded in 2007
The International Federation of Sport Climbing was founded in Frankfurt on January 27th, 2007. This governing body is in charge of all sport climbing activity around the globe. The IFSC also hosts all major competitions in sport climbing. In 2019, the IFSC World Championship functioned as a qualifier for the 2020 Olympics.
List of competitions hosted by the IFSC:
IFSC World Cup
IFSC World Championship
IFSC World Youth Championship
IFSC European Championship
IFSC European Youth Cup
41. A barefoot boulderer climbed V15+
Charles Albert is a french climber who is known as the barefoot climber. He primarily boulders barefoot, but unlike other barefoot ascents, Charles tackles the hardest grades in bouldering without climbing shoes.
In 2020, Charles Albert made a first ascent of No Kpote Only while barefoot and graded it 9A/V17.
This grading meant it would rival Burden of Dreams, the only 9A/V17 at the time. This would have made Charles' ascent an incredible feat considering he did it barefoot. However, the problem was downgraded V16/V17 by the second ascent (Ryohei Kameyama) and further downgraded to V15 by the third ascent (Nico Pelorson).
Pelorson did mention that it is a solid V15 with different beta from Charles' AND climbing shoes. Embracing how difficult it is to do such a climbing without climbing shoes.
42. There are 7 common holds found at climbing gyms
The following holds are most commonly found at a climbing gym:
Jugs
Undercling
Slopers
Crimps
Pockets
Pinches
Volumes
43. The price of an at home climbing wall starts at $500
Many serious climber consider getting an at-home climbing wall to continue their training. This will cost a pretty penny since climbing holds and lumbar isn't very cheap. If you happen to have the required skills and hardware (e.g. a mitre saw), you could get away with building a home climbing wall for around $500.
However, you will likely spend more than that. Most DIY builds I've heard off go for around $1000 – $2000.
If a home climbing wall is something you might be interested in in the future, your best bet is to get a moonboard. Moonboard is a company known for their standardized at-home climbing wall. Once set up, you will be able to use their app to try out tens of thousands of problems created by moonboard users and even create your own.
They sell packages starting at $2100. One can also buy a free standing kit for $8,000. Or if you are extra cheap (and good at carpenting) you can get started with just $165 for the standardized holds and use their the moonboard dimensions to create panel yourself.
44. Rock climbing burns 400 – 550 calories per hour
Rock climbing is a really good workout to burn off calories. When rest between routes/problems is kept to a minimum, rock climbing can burn up to 400 to even 550 calories per hour. This means that a two hour climbing session could burn up to 1100 calories. It's not only the hard climbs that contribute to burning calories, even the easy problems at your climbing gym are going to burn plenty of calories.
45. There are an estimated 35 million climbers worldwide
According to an article released but The Guardian, the IFSC estimated in 2015 that there are 35 million climbers worldwide. However, since then, climbing has risen in popularity through films such as Free Solo and events such as the 2020 Olympics. So likely, the actual number is much higher. However this remains hard to estimate and the IFSC has the best resources to do so.
46. An average 25 People die from rock climbing every year in the US
According to Accidents in North American Climbing, an annual publication that reports on climbing accidents, a total of 1,696 climbers died between 1951 and 2017. This results in an average of 25 climbing deaths per year in the United States.
47. The US houses over 590 Rock Climbing Gyms
Currently, there are 591 climbing gyms in the United States according to Climbingbusinessjournal. 2021 saw the most climbing gyms opened ever. This is likely a result of climbing making its first appearance at the Olympics as well as climber Nathaniel Coleman bringing home silver for the US. Just a couple of years ago, publications estimated just 450 climbing gyms in the US, that's an increase of 23%!
48. The first rock climbing competition was held in 1985
The first international rock climbing competition occurred in Bardonecchia, Italy in 1985. The event, called SportRoccia held place on actual rock (instead of artificial walls). Climber Andrea Mellano and climbing journalist Emmanuel Cassarà organized the competition. The judges consisted out of four prominent climbers: Riccardo Cassin, Oscar Soravito, Maurizio Zanolla and Heinz Mariacher.
49. Every Climbing Gym has unspoken etiquette
Here are some rules you should follow in an indoor climbing gym:
Take turns on the wall
Don't go to the bathroom in your climbing shoes
Don't sit on the mats underneath boulder problems
Tape up if you start bleeding
Don't ambush someone who just brushed holds on a problem
Don't beta spray (offer unsoliciated advice)
Don't walk underneath a climber
50. Pierre Allain developed the first rock climbing shoes in 1930
Pierre Allain isn't just credited with pioneering bouldering in Fontainebleau, he also developed the first shoes dedicated towards rock climbing. During a time when most climbers were wearing high-top sneakers, Pierre Allain was the first to reinforce the rubber. Later on, he teamed up with a shoemaker to design the worlds first rock climbing shoe: the PA, using his initials. By 1950, most rock climbers worldwide were wearing PA's.